With the resolution announced by Randwick Council on 17 April 2018 to change its LEP and allow
subdivision of company title duplexes approved prior to 8 July 2018, I have been inundated with
enquiries from company title property owners looking for more information on the process involved
for them to convert their property.
I have posted previous blog posts in recent weeks on company title property and I thought it would
be useful to post this more comprehensive guide as a reference post for company title property
owners.
Please note that whilst I have tried to be as comprehensive as possible, there may be some steps in
the process that will only become apparent once Randwick Council starts approving DA's for torrens
subdivision.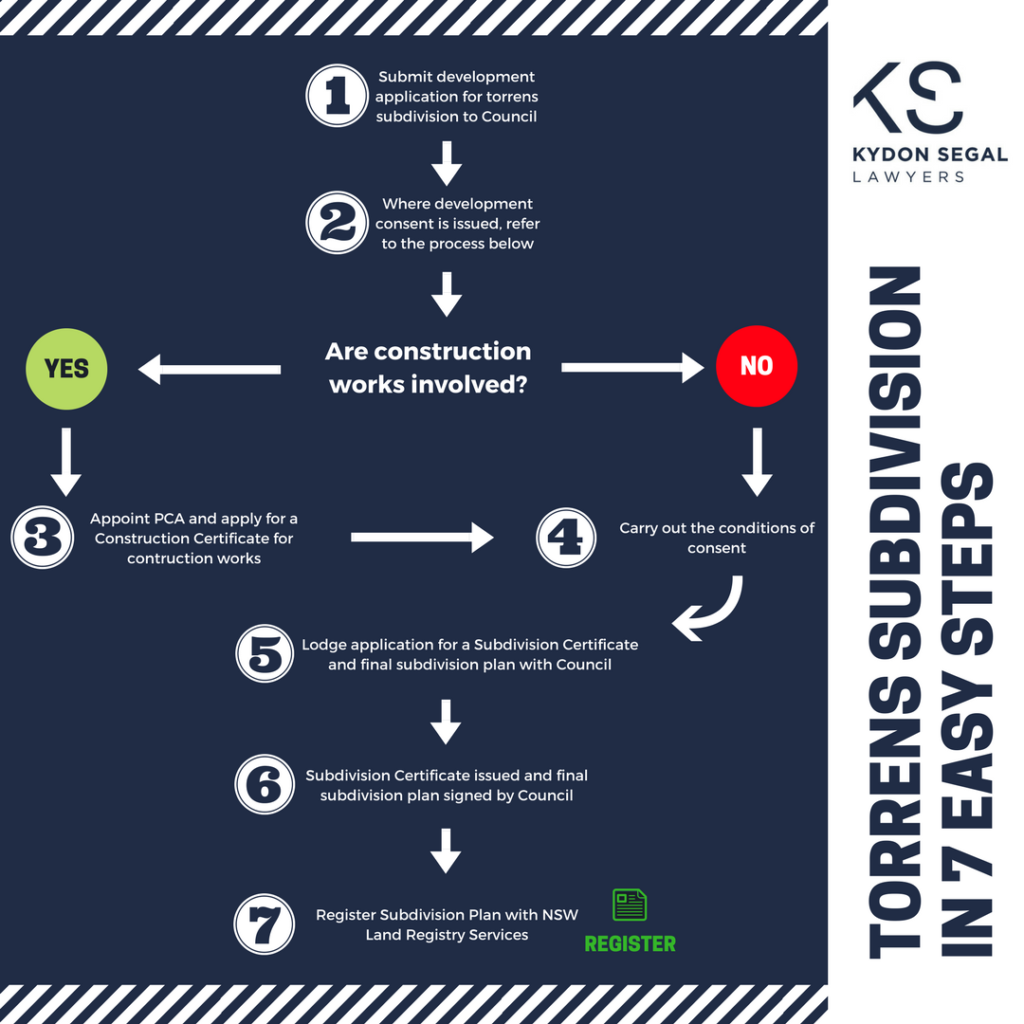 Step 1 – Check company has power to convert the property to Torrens
You need to check that your company has the power (as contained in its constitution) to convert to
torrens title.
If it does not, the company's Constitution will need to be changed to provide the necessary power.
A lawyer can check your constitution and draft any necessary resolution if your company does not
have the power to convert.
Step 2 – Decision to Convert
The shareholders of the company must make the decision to convert to torrens title.
This should be done initially by informally canvassing the opinions of shareholders and having them
reach agreement to proceed with the conversion and payment of the costs to be incurred in the
conversion.
Agreement will also have to be reached about which consultants to use to assist with the process.
Consultants that you may require include:
A lawyer to assist you to review your constitution, pass company resolutions, arrange
lodgement of subdivision plan and any associated dealings, liaison with your bank
(mortgagee) and to undertake the transfer of the subdivided lot into your personal name
(including applying for a stamp duty exemption on the transfer.
A planner or architect to prepare the development application and co-ordinate the s73
certificate application.
A surveyor to prepare a plan of subdivision
A hydraulic engineer to prepare hydraulic drainage drawings (this may not be required if you
already have separate services).
A certifier to certify your subdivision certificate.
Contractors to carry out any works required by Council or Sydney Water to be done as a pre
condition to subdivision (this may not be required if you already have separate services).
A mortgage broker to assist in refinancing your home loan after the subdivision is registered.
Step 3 – Passing company motion to convert
Once informal agreement to convert to torrens title is reached, the company should pass a formal
resolution of members approving the conversion of the company home unit scheme to a torrens
title home unit scheme. This resolution should be prepared by your lawyer.
Step 4 – Raise money to fund conversion
In order to avoid disputes between co-shareholders down the track, ideally you should have quotes
from all the consultants you need to assist with the process upfront. The shareholders should then
raise the funds needed to be paid in advance. The funds raised can then be held in a joint account in
the name of the shareholders, in any account operated by the company or in your solicitor's trust
account.
Step 5 – Engage Consultants
Once the appropriate company resolutions have been passed and shareholders have agreed to
proceed with the conversion, the next step is for them to engage the consultants required to assist
with the conversion. The general list of consultants you will need is set out above. You will need to
start by engaging a solicitor and a planner/architect. The other consultants can be engaged at a later
stage.
At Kydon Segal lawyers we can refer you to experienced relevant consultants if required.
Step 6 – Mortgagees of Shares
If any shareholder has mortgaged their shares to a lender, the mortgagee will need to approve the
proposed conversion. Failure to do so may result in a technical breach of the conditions of your
loan.
This consent is usually obtained as a matter of course because the mortgagee recognises the
improvement in their loan security that will result from conversion. However, most mortgagees will
impose conditions on their consent (including payment of all of their costs).
You should speak to your existing lender to obtain this consent and engage a mortgage broker to
assist you to negotiate a better deal on your loan or to refinance your loan as there should be better
home loan deals available where your security is a torrens property rather than company title
shares. See step 12 below for more information.
Step 7 – Apply for and lodge DA Approval for Subdivision
Once the recently mooted amendment to Randwick Council's LEP is gazetted (ie comes into legal
effect), those wishing to convert from company title to torrens title will have to submit a
development application for approval of subdivision.
Your architect or planner can prepare this application for you and submit it with Council on your
behalf. Council will require you to pay a fee for the lodgement of your application as will your
architect or planner for preparing and managing the application.
Step 8 – Comply with conditions of DA Approval
Once approved, your development consent for subdivision will contain a number of conditions of
consent which must be satisfied before you can lodge your subdivision plan for registration.
If the subdivision approval requires civil construction works to be carried out, a Principal Certifying
Authority (PCA) must be nominated, prior to any works commencing. A PCA can be a private certifier or Randwick Council. Where applicable, plans detailing proposed civil construction works
must be submitted to the PCA for authorisation.
The conditions of DA may include obtaining a s73 compliance certificate from an authorised Sydney
Water service co-ordinator. A s73 compliance certificate confirms you've satisfied our
requirements to adequately service your new subdivision or development with water, wastewater
and stormwater services.
At this time, you should also have your surveyor prepare the subdivision plan and your solicitor
prepare any other instruments that may be required to be registered on the title of the property by
the DA consent.
There may be other conditions of consent that need to be satisfied or which are required by Sydney
Water as a pre condition to a s73 compliance certificate issuing (eg separate sewer connections or
water supply points).
You will not know the full list of conditions until such time as the DA consent for your property
issues.
Step 9 – Certification
After you have complied with the conditions of the DA, the next step is to lodge your final
subdivision plan with Randwick Council for execution (signing) by the Council. This is lodged with
Council over the counter together with a Subdivision Certificate application form (accompanied by
appropriate fees) and 88B instrument (if required).
Prior to issuing a Subdivision Certificate, Council requires all DA conditions to be complied with, all
Construction Certificate approved works to be completed (if any), and all compliance certificates
from certifiers to be obtained.
Step 10 – Registration of Subdivision Plan
A Subdivision Certificate is issued by Council on the final plan of subdivision which authorises the
registration of the plan with NSW Land Registry Services.
The final subdivision plan should then be signed on behalf of the company (as owner of the
property) and given to your solicitor together with the certificate of title for your property for
lodgement with NSW Land Registry Services. A registration fee is payable to NSW Land Registry
Services.
Step 11- Stamp duty exemption on transfer
After the subdivision plan has been registered, NSW Land Registry Services will issue two new
certificates of title for the newly created torrens title lots! These lots will be in the name of the
company not in the name of the shareholders.
In order to transfer the lots into the personal names of the shareholders, a Transfer of Land will
need to be lodged with NSW Land Registry Services. Prior to lodging the transfer, you will need to
have your solicitor arrange to have the stamp duty marked exempt from stamp duty (if an
exemption applies). My previous blog post addressed this issue.
Step 12 – Transfer of Titles and Refinance
With your Transfer of land marked exempt from duty, the next step is to register your Transfer for
registration with NSW Land Registry Services. Prior to doing so, it will be necessary to arrange for
your mortgagee (lender) to give consent to this taking place and to refinance your mortgage so that
the bank's mortgage is transferred from your shares to the property.
This is something that your solicitor and your mortgage broker can assist you with.
Step 13 – Winding Up the Company
Once the company has transferred the lots to shareholders its affairs should be put in order to
enable its winding-up by a members' voluntary winding-up.
The procedure is identical with that prescribed for all companies and is beyond the scope of this
memorandum but is something that your solicitor or company accountant can undertake on your
behalf.
If you have any questions arising out of the matters raised in this article, please feel free to contact
the team here at Kydon Segal Lawyers and Click Conveyancing.